PRINT PRICING
| | | | | | | |
| --- | --- | --- | --- | --- | --- | --- |
| Size | PRICE   | | Canvas Mount  | Add Standout Mount  | Ad Styrene Mount  |  Gallery Wrap |
| 4×6* | $1.29 | | | | | |
| 5×7* | $2.49 | | | | | |
| 8×10 | $3.99 | |  — | — | $8.00 | $69.00 |
| 11×14 | $12.99 | | $36.00 |  — | $13.00 | $89.00 |
| 16×20 | $27.99 | | $46.00 | $23.00 | $18.00 | $119.00 |
| 20×24 | $34.99 | | $53.00 | $31.00 | $26.00 | $149.00 |
| 20×30 | $41.99 | | $65.00 | $53.00 | $37.00 | $189.00 |
| 24×30 | $53.99 | | $77.00 | $67.00 | $49.00 | $219.00 |
| 30×40 | $72.99 | | $90.00 | $81.00 | $61.00 | —  |
To order prints:
1.  Place all the images you want prints (8×10 or bigger, please) into a folder
2.  Next right click>send to>zipped folder.  Rename the folder to your last name
3.  After zipping and renaming your file, go to https://dropbox.yousendit.com/Izlas to upload (or just drop a disc in the mail to me) and use your last name as the subject (for small orders with less than 3 images, email me with image(s) attached in a single email that are to be printed)
4.  Indicate (1) what sizes you'd like each print to be and (2) what address you'd like them shipped to (please allow 6 business days for delivery).
Printing and Mounting FAQs
The professional paper and ink boast a glossy finish and metallic appearance which creates images with exceptional visual interest and depth; color images are vibrant with flattering flesh tones while black-and-white scenes are stunning, with dramatic impact and fluid contrast. This paper uses a proprietary combination of film laminate layers to produce three-dimensional, outstanding, lasting images on an ultra-bright background. 
Standard Printing ~ The images are printed on professional Kodac paper with the highest quality of ink; the look is bright and vibrant. I use Metallic paper as my default so please let me know if you'd like a Matte finish instead.
Canvas  ~ The image will be printed on canvas and then mounted on stretcher framework, ready to be framed upon delivery.
Gallery Wrap ~ The print is strech-wrapped around a wood frame, ready to hang.  Please allow an additional 5 days shipping for these.  This has the WOW factor 100% and is worth every penny.
3/4″ Black Standout ~ The image is mounted on a 3/4″ lightweight board and looks absolutely stunning. My favorite option for the budget-conscious buyer.
Styrene Mount ~ The image is mounted on a 3/16″ heavy-duty styrofoam; this image can hang as-is or be placed in a frame.
MOUNTING SAMPLES

(Gallery Wrap)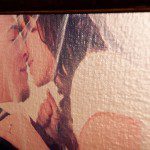 (Standard Canvas)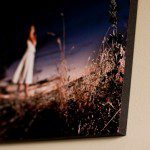 (Standout Black)
TIPS:
In photography, cameras shoot in a native 2:3 ratio; that is, all prints that don't have a 2:3 ratio will need to be cropped a bit. An 8×10 has a 4:5 ratio – the 16×20 has the same; a 20×24 has a 5:6 ratio, etc.  Please take that into account when selecting images to be printed.
For pictures that are 16×20 and bigger, I HIGHLY recommend a mount to ensure no wrinkles when the image(s) gets framed
PLEASE TRIPLE CHECK… to make sure you upload the large files (NOT the thumbnails copied from your photo viewer).  Make sure you grab the files from the original folders to make sure I get the large files.
To redeem any print credits I've given, orders must be placed within 30 days of final product delivery.
Leather Lay Flat Albums
PRICES 
| | | |
| --- | --- | --- |
| Wedding Album Size | 10 pages (20 sides) | 15 pages (30 sides) |
| 10×10 | $219 | $274 |
| 8×8 | $195 | $246 |
| | | |
| Sign In Book Size | 12 pages (24 sides) | |
| 12×12 | $199 | |
To order albums:
Place all the images you want presented in your album on a CD and mail it to Izlas Imaging, 320 Garden Drive Suite 1, Providence, UT 84332

Indicate what size of album, the style, and how many pages you would like

Please provide approximately 1-2 images per side (that is, provide about 40 images for a 24 sided album– that would be a 12 page album)

Please allow 3 weeks for delivery
Typically, photographers charge 4 times the album's cost for printing; I just do wholesale as a thank you to my clients. Albums are beautiful and are a great way to have the highlights of your event in one place; they provide the 'wow' factor to your event's memories and become an instant family heirloom
Albums Features
Our albums are a new, high quality, premium style. They are a library bound album with lay flat pages.  Prints are mounted 1/16 of an inch from the edge of the page, leaving a tiny black border around the image. They boast premium, embossed, black leather cover and heavy weight 5mm pages with Gilded page edges.
Sign In Book Features
The Sign In book is a nice 12×12 hardcover gloss album. The pictures are arranged artistically with plenty of room for family and guests to sign and leave messages of congratulations.
---
FAQs
6 Business Day delivery time on pictures; 4 weeks for albums

$7 flat rate for local shipping and handling on pictures; add $8 for a two-day photo shipment; $20 flat rate rate of Album delivery

25% charge for additional photo manipulation and for orders placed w/o CD or yousendit/email delivery; payments are non-refundable (see our privacy policy)